History of University Park
In late 1980 local developer Pat Neal and international entrepreneurs, Rolf and Barbara Pasold, purchased 300 acres of pristine low pine flatwoods owned by State Farm insurance agents that was used as a hunting preserve.  Painstaking planning of this 1,200 home master-planned community took nearly 5 years and the developers' commitment to the preservation of the natural beauty of the property is still evident today and a tribute to the founding fathers.
This unique Neal/Pasold partnership which seamlessly combined American achievement and European inspiration gave rise to an award-winning residential community recognized with several prestigious awards including Best Design in America, Best Community in the Southeast and Best Development in the Region.
Timeline
For 25 years, the Neal and Pasold families oversaw the growth and further development of this thriving community and country club while focused on environmental stewardship and the preservation of the original natural beauty of this land.
University Park marked many milestones throughout its 30-year history.  Here are some of the highlights:
November 1980
Pat Neal and Rolf Pasold purchased the land that would become University Park.
March 1984
The first homes in Hampton Green and Regents Park were sold.
October 1991
The country club opens with 18 holes of championship golf.
1996
University Park received Best Community Design in America award – National Association of Home Builders and Professional Builders.
January 1996
Golf Digest 4-star rating awarded.
March 2000
Named Best Community in the Region.
January 2008
Mandatory Resident Membership enacted.
A Bright New Future
30 years later, located in what was once considered a remote locale, University Park can be found in the heart of the bustling University Parkway corridor in a setting unmatched in our area, making it one of the most sought-after communities in our region.  The recent turnover of the community association and purchase of the Country Club in 2019 paved the way for resident stewardship and a brighter future.
January 2017
Final home in Lansdowne Crescent is completed.
November 2019
Recreation District purchases Country Club.
November 2019
Community association turned over to residents – 7 person board elected.
August 2021
Renovation of Former Sales Office to The Community Center completed
.
October 2021
Club Restaurant Expansion and Renovation project begins.
UPCAI Community Center!
Following a complete interior renovation, The Community Center opened its doors on December 8, 2021.  Located just south of the gatehouse, the building was the former sales office for the community.
The completely renovated interior boasts two large meeting rooms equipped with the latest technology where association Board and its committees, UPRD meetings and the country club management gather.  Resident artwork, rotated quarterly, is displayed in "The Gallery at UP" in the open atrium lobby, facing a panoramic view of a golf course hole adding interest and relevance to this vibrant space.  UPCAI staff offices are also located on the premises to handle the disbursement of community information and to process the needs and wants of the residents.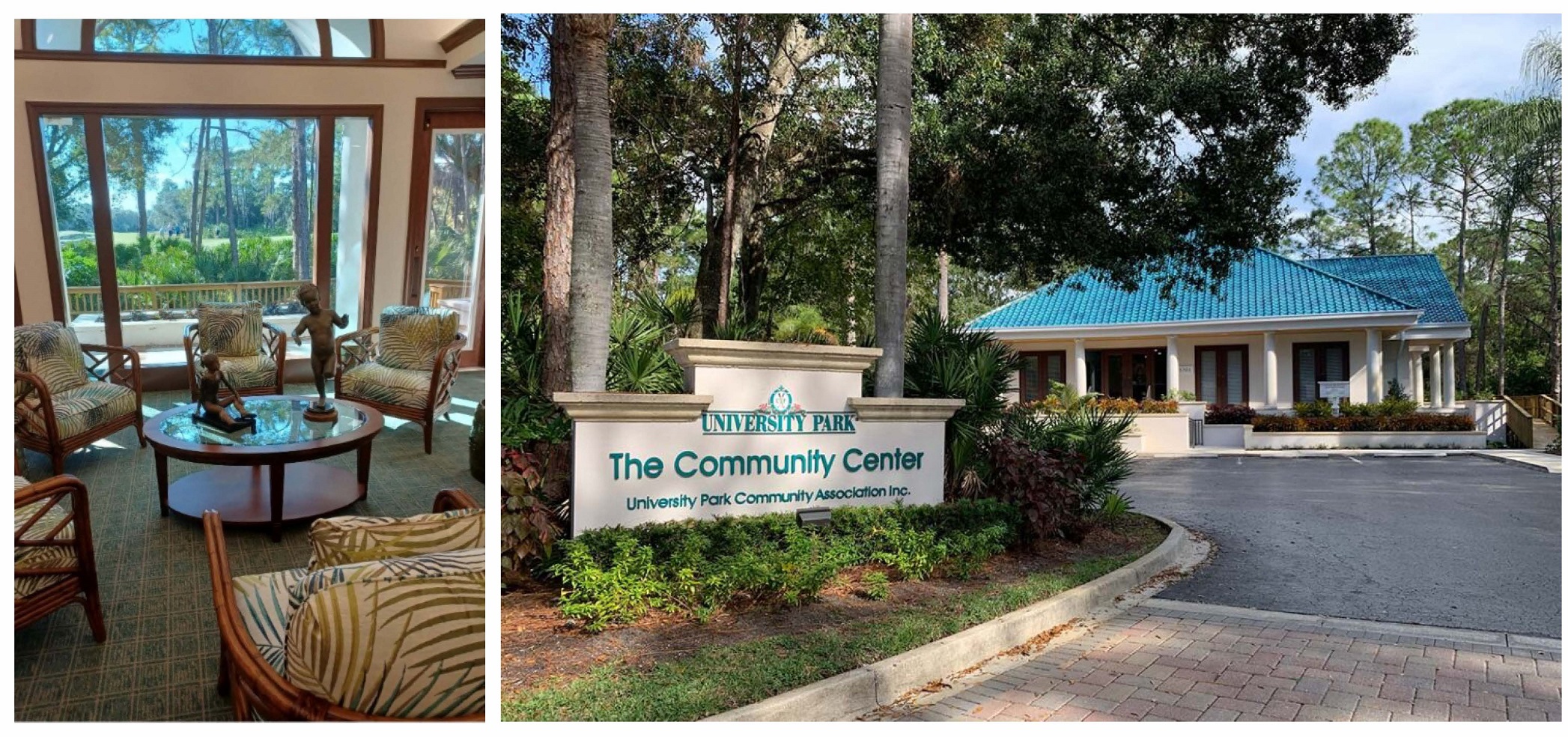 Office Hours
Monday - Friday:  8:30am - 5pm
Office closed weekends